PRINCESS OF EASTCOASTDOLLS
Gender : Female
Color / Pattern :Seal Bicolor

Adorable, Purebred TICA Registered Ragdoll Kittens for sale.
They ready to their new homes
Kittens will remain on hold until their 12-18th week for evaluation and assessment.
They will then be offered in order of Show/Breeder, Show/Alter and Pet.
Please contact us with your preference and/or to be added on our wait list.
All of our breeder cats are DNA tested and negative for the Ragdoll HCM gene that causes heart failure in Ragdolls.
Kittens
are guaranteed to be Ragdoll HCM negative for life.
Kittens
come with a
health guarantee
. Our Ragdolls have champion lines are purebred and registered with The International Cat Association (TICA).
Hawk

Show & breeder quality
ragdoll Kitten

Gender :Male
Color / Pattern : Blue Bicolor
Price : $1000
MICROCHIP #: 9483
Spay / Neuter :Neutered
STATUS : AVAILABLE
Sunday Mood

Show/Alter Quality
ragdoll Kitten

Gender : Female
Color / Pattern :Seal Bicolor
MICROCHIP #:3423
Spay / Neuter : Spayed
STATUS : Reserved to Bomi (VA)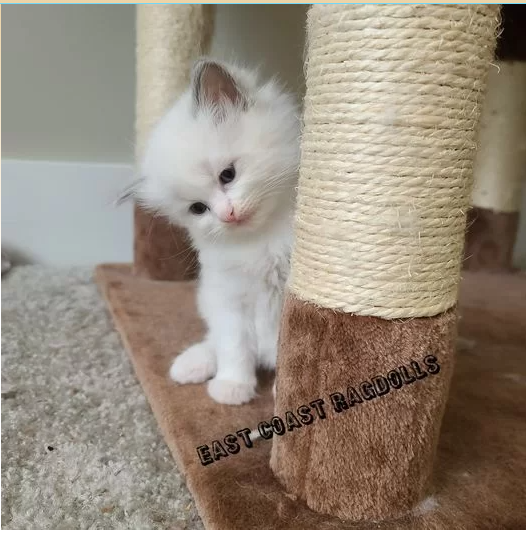 Moe (Kylo)

Show / Alter quality
ragdoll Kitten

Gender : Female
Color / Pattern :Blue Bicolor
MICROCHIP #:
Spay / Neuter : Spayed
STATUS : Reserved to Laura (VA)
Mr. Puff

Show / Alter quality
ragdoll Kitten

Gender : Male
Color / Pattern :Seal Bicolor
MICROCHIP #:3422
Spay / Neuter : Neutered
STATUS : Reserved to Erika (VA)
Mr. Serious

Show / Alter quality
ragdoll Kitten

Gender : Male
Color / Pattern : Seal Bicolor
MICROCHIP #: 3421
Spay / Neuter : Neutered
STATUS : Reserved to Zoey (VA)
PILOT 👨‍✈️

Show / Alter quality
ragdoll Kitten

Gender : Male
Color / Pattern : Seal Bicolor
MICROCHIP #: 9482
Spay / Neuter : Neutered
STATUS : Reserved to Yhao (VA)