RAGAROSE PRINCESS OF EASTCOASTDOLLS
(Rag n 03)
X
DANDI LAZUR EYES*PL
(Rag a 03)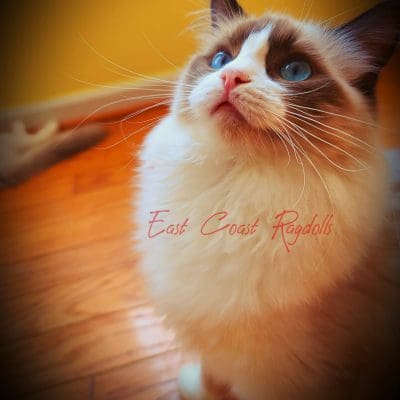 RAGAROSE PRINCESS OF EASTCOASTDOLLS
(Mom / A.K.A. Princess ) Seal Bi-Color Ragdoll
DANDI LAZUR EYES*PL
(Dad / A.K.A. Royal Champion ) Blue Bi-Color Ragdoll
They will have first two sets of shots, they will have a two year health guarantee both parents are tested and negative for HCM and PKD1. 
They will be fixed and come with their TICA registration.
The deposit to hold your place is 250 and the total price is 2500. 
Have Champion Lines.
We expect blue bicolor, Seal Bicolor and possibly seal and blue mitted.
Kitten #1
Reserved to Laura (VA)
Gender : To be determined
Kitten #2
Gender : To be determined
Kitten #3
Gender : To be determined
Kitten #4
Gender : To be determined
Kitten #5
Gender : To be determined